Home Sweet Home: The "Things"
It all began a year ago with a dot.
Late last year, when replacing all my home's lights with LEDs (among other projects), I had been spending a lot of time at Home Depot and Lowes. While at Lowes in November 2016, I noticed they sold Amazon Echo products, and the Echo Dot was only $50. I picked one up and started playing with it.
Echo mostly works as you'd expect from a Siri-like device: you say "Alexa, …" and it responds. The full-sized Echo supposedly has decent sound, but the Dot is compact and has, at best, satisfactory sound for music. However, if you want you may hook it up to a speaker via Bluetooth, and that works well. I'll usually wake up with "Alexa, play some music", and it often does a good job figuring out music I would like to hear. "Alexa, what's the weather like?" "Alexa, what movies are playing?" Etc. A little limited in day to day functionality, but worth the $50 as a novelty.
But I was drawn to the developer functionality. I wrote a few apps, one of which I tried to get submitted for publication, but they kept coming back with technical rejections to fix, and I never completed the process. But it's still an interesting platform.
I was also curious about the "smart home" integration possibilities. I had mostly dismissed the the whole "Internet of Things" idea as gimmicky, but there was one specific use case I could think of for me personally. The backyard patio lights are a string of overhead lights which run to the side of the house and attach to a standard outdoor outlet which is in a slightly inconvenient location. I had been thinking of ways to fix this, and a weatherproof remote controlled relay switch would be useful.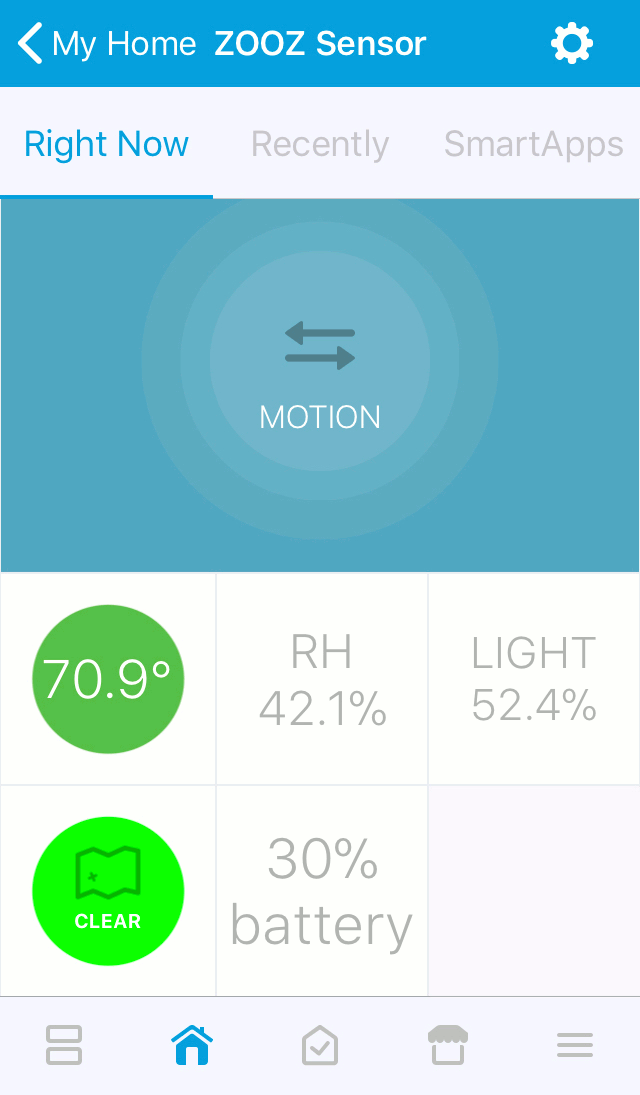 The Samsung SmartThings hub was on sale on Black Friday 2016 for $50 (which as of 2017 is now its regular price), got good reviews, and seemed to have the best variety of device support. Its two main supported protocols are ZigBee and Z-Wave. Both are point-to-point mesh networks: you can pair both Device A and Device B to your hub, and if, say, Device B is not within range of the hub but can talk to Device A, Device A will relay the commands for it. It also supports several other Internet-connected services, such as the thermostat I already happened to have.
I bought the SmartThings hub, as well as a weatherproof control module. The pairing process was simple: press a button on the module to initiate pairing, accept it on the smartphone app, and now I could turn the patio lights on and off from my phone. It also has Alexa integration, so once those were paired, I could say "Alexa, turn on patio lights".
A week later, I saw that Lowes had their Iris ZigBee (indoor) outlet control modules on sale, and bought a few to play with. Iris is a competing home automation platform to Samsung SmartThings, but as I understood it, SmartThings supported Z-Wave and ZigBee devices from any manufacturer (which gave it a leg up on competitors which tend to be walled gardens). I began the pairing process and… problem. It simply showed up as "Thing" and I couldn't do anything with it.
I was all set to return them, but it was then I learned about the full extent of SmartThings compatibility. While the app has a very simple interface and limited information and actions available, it turns out there is actually a web interface for developers. Not only does this interface give you a lot more information (radio levels, debugging events, etc), but it actually allows you to write your own device handlers, in a scripting language called Groovy, which is basically the Java equivalent of Lua, and is often used in Jenkins plugins.
With enough work, I could have reverse engineered the Iris outlet and written my own device handler, but SmartThings has a large developer community, and it's likely someone has already written a device handler for nearly every Z-Wave and ZigBee device out there, even if it's not part of the core SmartThings platform. I quickly found an Iris outlet handler, imported it, and then was able to pair the outlets.
An interesting feature of these Iris outlets is, while they are controlled via ZigBee, they also have a Z-Wave radio in them and can act as Z-Wave repeaters, strengthening the Z-Wave mesh as a whole. However, SmartThings does not know about Z-Wave devices which literally do nothing but act as a repeater, so when I added the Z-Wave side, it would fall back to a switched outlet. Not really a problem (in the phone UI, it would show a switch to toggle which did nothing), but it did inspire me to learn Groovy and how to write device handlers, and I wrote a proper device handler for Z-Wave repeaters. It was actually a surprising amount of work to write a handler for a device which does literally nothing.

Since then, I went a little overboard in the novelty of it, and have bought a number of additional devices. As of now, the current list is: